Can you guess where our next journey will be? Hint: The Land of Lakes and Volcanoes. If you are like me (prior to booking this trip) you have no idea. But if you are a smarty pants or have visited this beautiful country you know that our next adventure will be in... Nicaragua!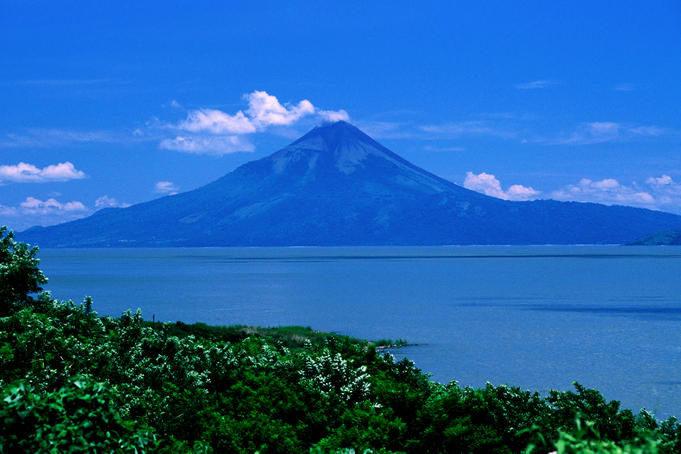 Nicaragua
I've coordinated this trip as another Study/ Volunteer Abroad Program for 10 of my Spanish students (4 of whom traveled to Panamá with me in April 2012) and a few teacher/ chaperones who want to travel with an expert. I originally dreamt of the colonial streets and cool sea breeze of Cartagena, Colombia. This hostoric gem would expose my students to the crisp Colombian accent, tropical beaches, and important world history. Unfortunately, that dream was quickly killed by our school Principal who couldn't get his mind past Colombia's bad reputation.
I did not want to return to Central America this year, but airfare was way too expensive to other South American destinations and Spain. It seemed like life was pointing us back to Central America, but where to exactly? We already visited Panamá, so maybe Costa Rica? As lovely as Costa Rica is, it has almost become cliché and I figured that my students will get many offers to visit there during their life-time. Costa Rica is one of the placed I learned Spanish, I absolutely love it there. While living there I made life-long friends and had a plethora of positive life-changing experiences, it was amazing! Many travelers I met there loved it too, but for many it was nothing compared to how much they loved its northern neighbor, Nicaragua. "There is a place that's better than Costa Rica? Impossible!" That was my first reaction to the many people I quickly categorized as delusional. It was obvious that all of these people were crazy because there could not exist a more perfect place.
This year my group of participating students, and their parents, chose Nicaragua as our back-up country in case Cartagena, Colombia was not approved. So, with Cartagena taken off the table, and with Nicaragua's rave reviews in mind, we began to plan. Some of the things we reviewed were safety, airline prices, study/ volunteer prices, exchange rates, and tourist attractions. Nicaragua's capital, Managua, was recently named Central America's safest city, that was a great sign! Due to the $1USD to $23 Nicaraguan Córdoba exchange rate the study/ volunteer rates were lower than what we paid in Panamá and the plane tickets on Spirit Airlines were low. Once we'd gathered and reviewed all this information we were thrilled. Parents rushed me money for airfare and after much ado dealing with school-related bureaucracy we were able to purchase our plane tickets at $340 per person!
It didn't take long to realize how much there is to do in Nicaragua. The active volcanoes Masaya and Mombacho, Volcano boarding at Cerro Negro, Las Huellas de Acahualinca (6,000 year old footprints left as the earliest evidence of man in the Western Hemisphere), the city of Granada, Las Islas de Ometepe, and surfing in San Juan del Sur. This is just a list of things to do near the capital! The Caribbean coast also offers tropical beaches, Bluefields, Big and Little Corn Islands, rainforests, and Nature Reserves. I know that it will be impossible to cover it all in our 12 days there, but having options is always a good thing.
Poet Ruben Dario
Volcano Boarding at Cerro Negro
Las Huellas de Acahualinca
Masaya Volcano
I'm currently in contact with several programs in Managua and Granada to see which will provide us the best combination of Spanish classes, volunteering, host families, and tours. To find them I simply conducted Google searches for "Spanish schools in Nicaragua". I also flequently look at reviews on the Nicaragua forum on TripAdvisor.com, each organization's FaceBook page, and recommendations in the Moon Travel Handbook on Nicaragua. All of the Directors at these language schools speak perfect English and are highly efficient. Most of our communication is via email, but Skype conversations and phone calls are also options. Similar language schools exist all over the world and most have English speaking staff to help if you do not already speak the language. When planning for these trips courage is far more important than foreign language skill. From the way things are looking we will be able to complete this 12-day adventure for less than $1,000!
Now that this trip is on a roll and the details are quickly falling into place I have a list of preparations that I will begin working on and sharing with you all. Stay posted, and if you haven't applied for that passport yet, do it now. That is the first step toward a world of adventure!
E.